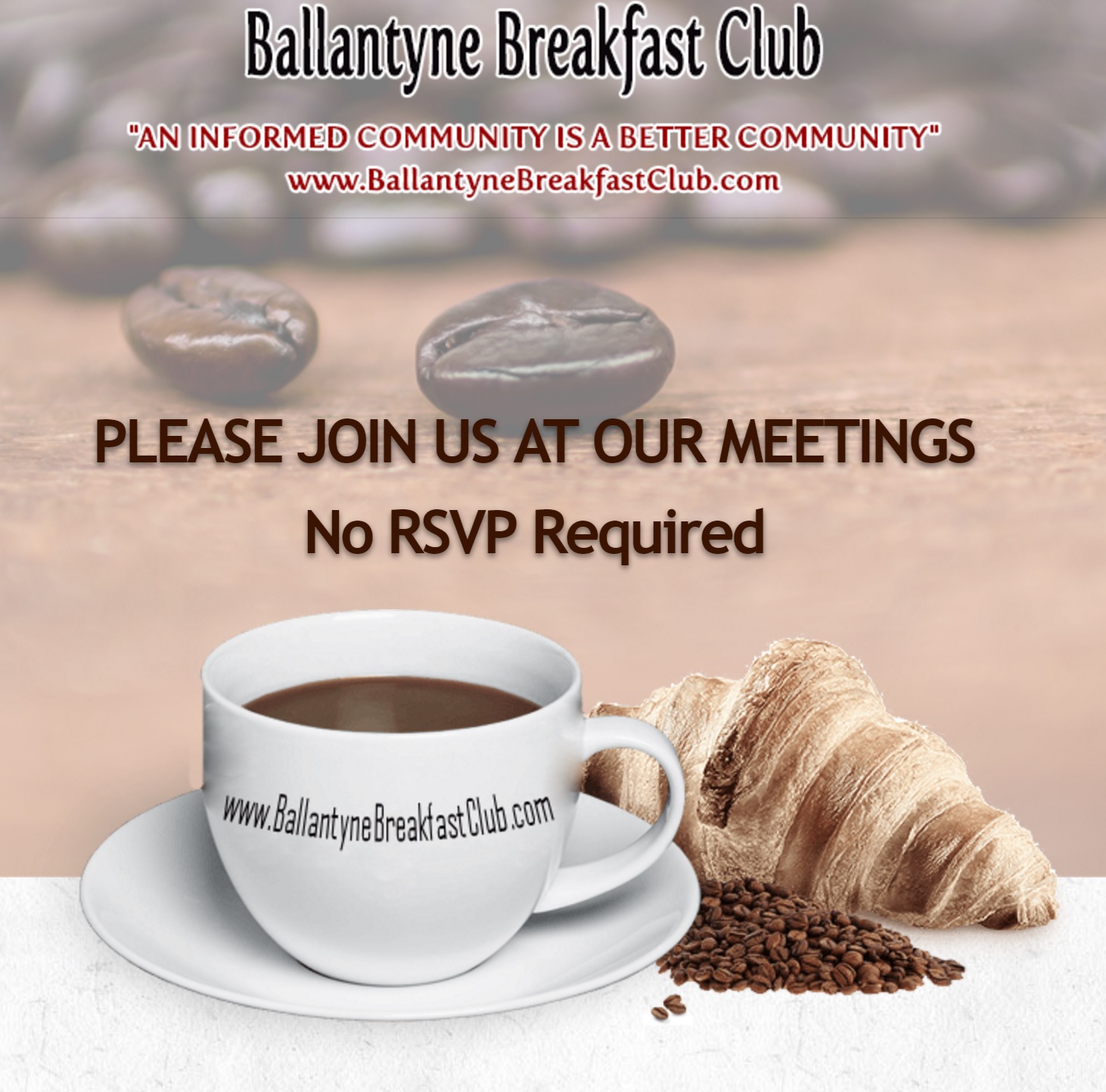 The Ballantyne Breakfast Club's first meeting of 2017 takes place on Saturday, February 18th. Known as the Breakfast Club's annual "Priorities Meeting," Saturday's meeting is co-hosted with the Ballantyne Chapter of the Charlotte Chamber of Commerce.
This meeting is a hugely popular and widely attended annual event where local government and civic leaders discuss their priorities and goals for the Ballantyne community for the coming year. A unique "Town Hall-style" event, its purpose is to provide Ballantyne and Charlotte residents an opportunity to meet one-on-one with a broad range of elected representatives, county/city department managers, service providers, and others who add value to and impact the Queen City's lifestyle.
Invited guests attending on Saturday include:
Elected representatives from both the North Carolina Senate and House, Mecklenburg County Commissioners, Charlotte City Council Representatives, Charlotte Mecklenburg County School Board Representative.

The Mecklenburg County Manager and the Charlotte City Manager City.

Representatives from the Charlotte Mecklenburg Police Department, Charlotte Fire Department and Mecklenburg County Sheriffs Department.

Representatives from NC Department Of Transportaion, Charlotte Department Of Transporation and CATS.

Representatives from the Charlotte Mecklenburg School System, Wingate University, Central Piedmont Community College and University of North Carolina.

Representatives for the Charlotte Planning Department, Water Department, Charlotte Neighborhood and Business Services, Charlotte Code Enforcement, Solid Waste Services, Parks and Recreation.

Representatives from the Charlotte Observer, Morrison and Sara's YMCA, Ballantyne Chapter of the Chamber of Commerce, CRVA, NAACP, South Charlotte Partners & North Charlotte Partners.

Developer / Business Representatives from Ballantyne, Waverly and Rea Farms.

Builders Representatives from David Weekley Homes and Pulte Homes.

Pending confirmation are Charlotte Center City Partners, Bike and Walk Charlotte.
Tables will be arranged throughout the Ballantyne Ballroom where you can meet these representatives and learn about their priorities, as well as share your opinions with them.
The 2017 Priorities Meeting is the first of six meetings held throughout the year by The Ballantyne Breakfast Club -- in February, April, June, August, October, and December. All meetings are open to the public at no cost. The Ballantyne Breakfast Club is now in its 17th successful year of providing opportunities for Ballantyne residents to meet and to learn about community events and priorities.
Whether you've lived in Ballantyne for years or are a newcomer, the Ballantyne Breakfast Club meetings are a "must go" to stay on top of neighborhood developments. And you don't need to live in Ballantyne to be welcomed to Ballantyne Breakfast Club meetings.
When: Saturday, February 18, 2017

Time: 9:00am - 12:00pm with coffee and refreshments available beginning at 8:30am

Where: Ballantyne Hotel & Lodge in the Ballantyne Ballroom

Admission: Free

Parking: Ballantyne Hotel parking lot

More Information: www.BallantyneBreakfastClub.com
SEARCH ALL BALLANTYNE AREA HOMES PRICED FROM $100,000-$250,000
SEARCH ALL BALLANTYNE AREA HOMES PRICED FROM $251,000-$500,000
SEARCH ALL BALLANTYNE AREA HOMES PRICED FROM $501,000-$1,000,000
SEARCH ALL BALLANTYNE AREA HOMES PRICED OVER $1,000,000
SEARCH ALL BALLANYNE AREA TOWNHOMES FOR SALE
BECOME A BALLANTYNE AREA MARKET INSIDER FOR FREE
WONDERING WHAT YOUR BALLANTYNE AREA HOME IS WORTH?
Want to stay on top of the market trends in your Charlotte metro neighborhood?
Sign up for your FREE Market Snapshot. You'll recieve the latest trends for your neighborhood for sold homes, properties for sale, inventory counts, and even "days-on-market". You can also view information regarding schools and community.
This Ballantyne community update is brought to you courtesy of Nina Hollander and Carolinas Realty Partners, RE/MAX Executive, your Charlotte metro area real estate consultants.
If you are considering selling or purchasing a home in the Charlotte metro area, I would love an opportunity to earn your business, exceed your expectations, and to prove to you that:
"The Right Broker Makes All The Difference."