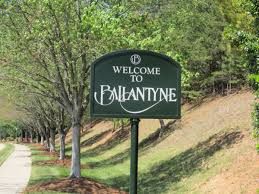 It's now a fact and no longer a long-standing rumor... Ballantyne Corporate Park has been sold to Northwood Investors, a New York-based investment firm, believed to be for more than one billion dollars! Ballantyne Corporate Park was developed by the Bissell Company in Charlotte, which prior to the sale, had developed and owned the BCP office buildings, four hotels, golf course and other property – most of which has now been purchased by Northwood Investors. The Ballantyne Corporate Park covers some 535 acres and 4-5 million square feet of office space. By any standard it is huge.

Read more here: http://www.charlotteobserver.com/news/business/biz-columns-blogs/development/article135827258.html#storylink=cpy
An upscale 2,000 acre, planned mix-use development, Ballantyne has become one of the fastest growing areas of south Charlotte, Ballantyne's residential real estate growth has been very much fueled by the growth and expansion of the corporate park, which provides thousands of jobs. Ballantyne offers high to mid-range single family homes, townhomes, condos, apartments, country club communities. It's perfectly position for a live, work, play lifestyle.
Today, the Ballantyne area includes over 63,000 residents and some 25,000 individual households. Ballantyne's strategic location within the I-485 interstate beltway provides easy access to and from almost anywhere in the Charlotte area, including Charlotte-Douglas International Airport.
Areavibes.com rates Ballantyne exceptionally livable with a score of 82/83. Ballantyne is ranked #12 in Charlotte and #16 in North Carolina in terms of livablity (compared with a national average of 70). The livability score is based on:
Lots of Local Amenities
Sunny Weather
High Income per Capita
High Graduation Rates
Stable Housing Market
THINKING ABOUT MAKING A MOVE TO CHARLOTTE'S BALLANTYNE AREA?
SEARCH ALL BALLANTYNE AREA HOMES HERE
WONDERING WHAT YOUR BALLANTYNE AREA HOME IS WORTH?
Want to stay on top of the market trends in your Ballantyne neighborhood?
Sign up for your FREE Market Snapshot. You'll receive the latest trends for your neighborhood for sold homes, properties for sale, inventory counts, and even "days-on-market". You can also view information about schools and community.

This Charlotte, North Carolina update about Ballantyne is brought to you courtesy of Nina Hollander and Carolinas Realty Partners, RE/MAX Executive, your Charlotte metro area real estate consultants.
If you are considering selling or purchasing a home in the Charlotte metro area, I would love an opportunity to earn your business, exceed your expectations, and to prove to you that:
"The Right Broker Makes All The Difference."