By now, most of us know that last night, in many part of the United States, we "sprang forward" and moved our clocks ahead by one hour. Hopefully you didn't forget to move your clocks forward by one hour. For many, losing that extra hour of sleep we got back last fall makes a huge difference! But did you know that one hour in the housing market can also make a difference?
The infographic below shows just how much of a difference an hour can make in the housing market.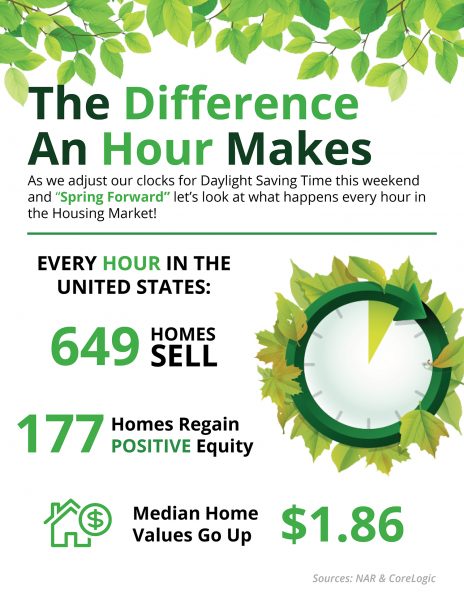 If you're a home owner or home seller, it's obviously great news that each hour not only do 649 homes sell (and that's 25 MORE homes selling each hour than sold at this time one year ago), but an average of 177 homes regain some positive equity, while median home values increase by $1.83. BUT, if you're a home buyer, this should tell you that the longer you wait, the more you will pay for a home. The time to buy is NOW!
Hopefully you didn't forget to move your clock back last night. And maybe you can use that extra hour you've gained to search for a new home. After all, each hour does make a difference. And those individual hours do add up!
SEARCH ALL CHARLOTTE METRO AREA HOMES HERE
WONDERING WHAT YOUR CHARLOTTE METRO AREA HOME IS WORTH TODAY?
This housing market update is brought to you courtesy of Nina Hollander and Carolinas Realty Partners, RE/MAX Executive, your Charlotte metro area real estate consultants.
If you are considering selling or purchasing a home in the Charlotte metro area, I would love an opportunity to earn your business, exceed your expectations, and to prove to you that:
"The Right Broker Makes All The Difference."