Charlotte's much-loved and highly anticipated, semi-annual Restaurant Week returns this week on Friday, January 19th and runs through Sunday, January 28th. Once again it's time to enjoy a true Queen's Feast! You'll have 10 days to dine like royalty at some 134 upscale Charlotte area restaurants located throughtout nine counties in the region at a reasonable fixed price of $30 or $35 for three courses. A record number of restaurants all around the Charlotte metro area are participating.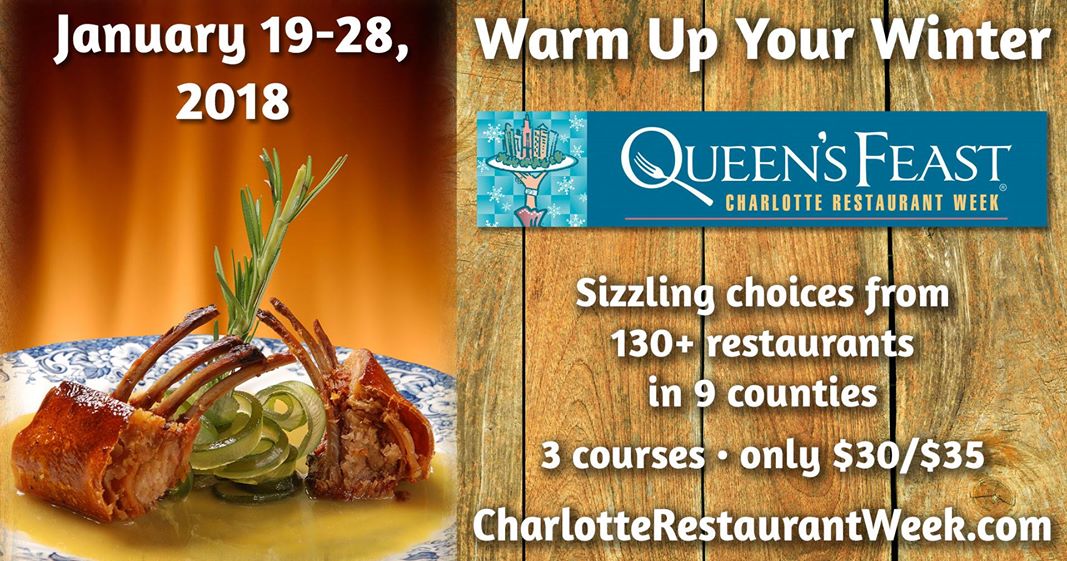 This semi-annual event in Charlotte is now in its 17th "season" and very much anticipated by the "locals." The 2018 theme for Charlotte's Queen's Feast is "Warm Up Your Winter." (Given how cold it's been in Charlotte recently, this is advice I will gladly take!)
The first Charlotte Restaurant Week® took place in July 2008 and had 42 restaurants participating. In the past 10 years it's grown to over 130 participating restaurants and attracts both local Charlotteans, as well as people from outside the area. The most recent Queen's Feast served over 170,000 diners and generated some $8.2 million in revenue for the participating restaurants in nine counties surrounding Charlotte. Not only is it a great way to enjoy great food at a reasonable cost, it's a great way to explore new restaurants and cuisines throughout the Charlotte area.
WHEN: January 19th through January 28th, 2018
WHERE: click here for a list of restaurants participating in Restaurant Week
WHO: Anyone and everyone who loves to eat and enjoys great gastronomic experiences!
COST: 3 courses for $30-35 per person (not including tax and tips)
HOW TO PARTICIPATE: reservations are highly suggested and many of the participating restaurants can be booked at Open Table
MORE INFORMATION ABOUT CHARLOTTE'S QUEEN'S FEAST RESTAURANT WEEK
In the Queen City we like to say that "Charlotte's Got A Lot" and our Queen's Feast Restaurant Week proves this is really so! Come out and enjoy this dining extravaganza without the extravagant prices! (I've already made my reservations at my favorite restaurant!)
LET THE FEASTING BEGIN!
This information about Charlotte, NC's Queen's Feast Winter Restaurant Week® 2018 is brought to you courtesy of Nina Hollander and Carolinas Realty Partners, RE/MAX Executive, your Charlotte metro area real estate consultants.
If you are considering selling or purchasing a home in the Charlotte metro area, I'd love an opportunity to earn your business, exceed your expectations, and to prove to you that: