Charlotte/Mecklenburg Police Department (CMPD) is hosting a Coffee With A Cop event in the South Charlotte/Ballantyne area this coming Wednesday, March 15th from 6:00 pm till 8:00 pm. Coffee with a Cop provides a unique opportunity to meet the local police officers who serve the South Charlotte/Ballantyne area and to learn more about how the CMPD works in our neighborhoods.
As the majority of contacts police offers have with the public typically revolve around emergencies, those times are always the most effective for building relationships within a community. Coffee with a Cop offers a simple "meet and greet" environment, allowing the public to have a one-on-one, no barriers conversation with local police officers and detectives in a relaxed environment. The program has no formal agenda or format, so just come, bring your questions and concerns and have a friendly conversation with the police officers who serve us so selflessly.
And as the event is being held at Amelie's French Bakery & Cafe, it could be worth attending just for the wonderful pastries and coffee served there! If you haven't yet discovered Amelie's in the Charlotte metro area, it's probably time you did.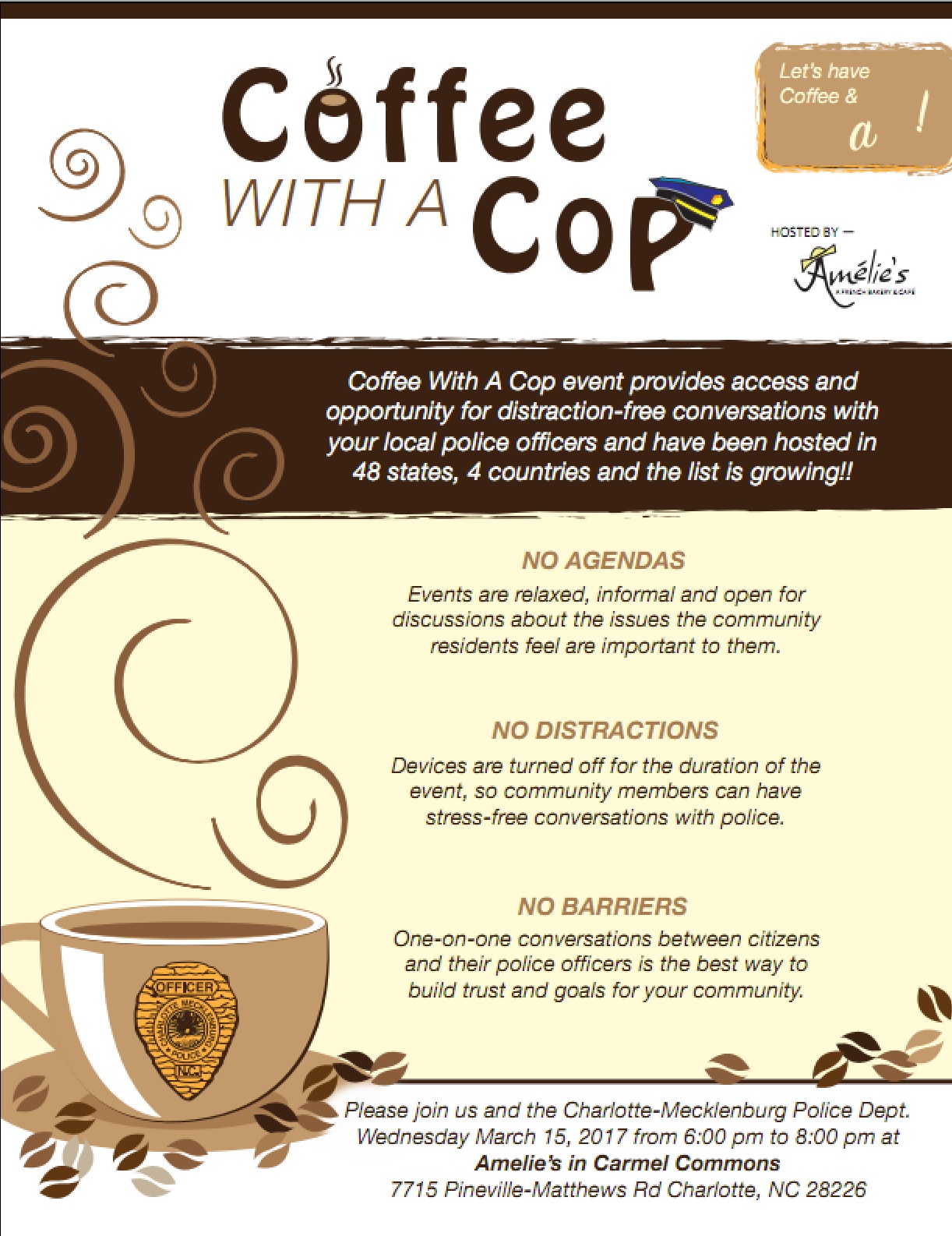 This Coffee With A Cop Announcement for south Charlotte is brought to you courtesy of Nina Hollander and Carolinas Realty Partners, RE/MAX Executive, your Charlotte metro area real estate consultants.
If you are considering selling or purchasing a home in the Charlotte metro area, I would love an opportunity to earn your business, exceed your expectations, and to prove to you that:
"The Right Broker Makes All The Difference."

WONDERING WHAT YOUR CHARLOTTE METRO AREA HOME IS WORTH TODAY?