If you love touring historic and architecturally interesting homes, if you love historic neighborhoods, you should definitely check out the 2017 Dilworth Home Tour in one of the City of Charlotte's oldest and most picturesque neighborhoods. 2017 marks the 45th year of this ever-popular home tour in the Queen City. The Dilworth Home Tour is actually Charlotte's oldest home tour.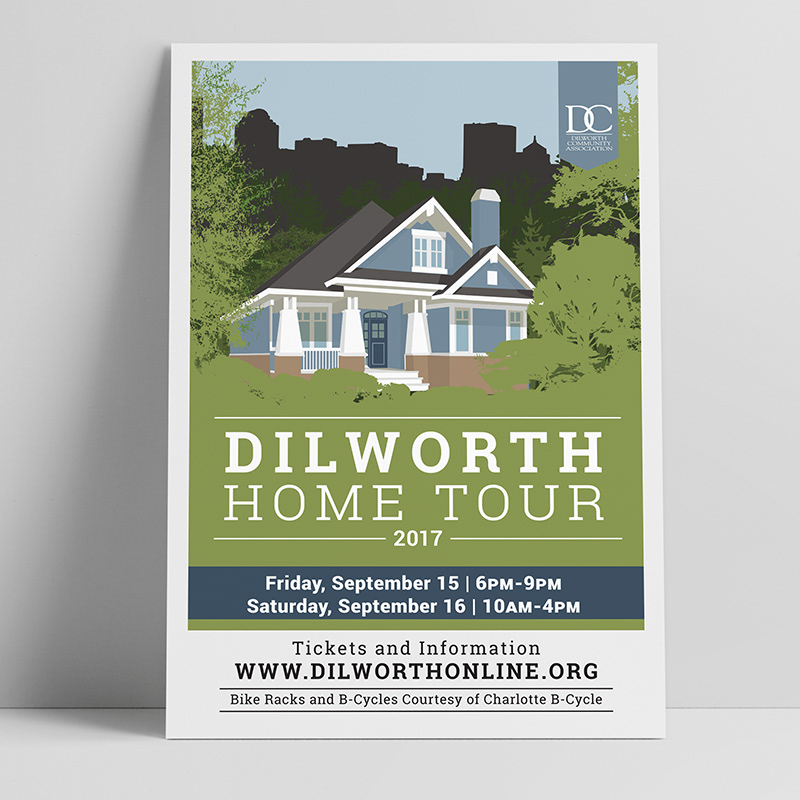 If you're not from or are new to Charlotte, you might well be wondering "why Dilworth?" Here's the answer to "why Dilworth?" ~ as one of Charlotte's most distintive neighborhoods, Dilworth offers a virtual cornucopia of historic architecture. The original section of Dilworth includes the last, well-preserved pre-1910 upper-class residential area left in Charlotte. After driving through Dilworth, many newcomers to Charlotte have said to me "that's just what I pictured a southern city like Charlotte to look like."
Developed by Edward Dilworth Lata, beginning in 1891, Dilworth is often referred to as Charlotte's first suburb, the area that started the residential rush towards the edge of town. It is also known as Charlotte's first "street car" suburb. Today, Dilworth is considered anything but a suburb and is known and appreciated for its stately, mature oak trees, sidewalks, and houses with front porches. With seven commercials having been filmed in Dilworth, you may actually have "visited" Dilworth and didn't even know it!
At the turn of the last century, Dilworth was considered one of the Charlotte's premier neighborhoods at a time when Victorian architecture was at the height of fashion. Even now, the Dilworth neighborhood has one of Charlotte's finest collections of Victorian residences. Dilworth also is home to the city's earliest experiments with the now-popular Colonial Revival style and has one of the largest collections of Craftsman style and bungalow homes in Charlotte. Much of the neighborhood is listed on the National Register of Historic Places as the Dilworth Historic District. Today, you'll not only find historic homes in Dilworth, you'll find newly built homes looking as if they were built 100 years ago, you'll find condominiums. Today, Dilworth has something for everyone in terms of housing.
The Dilworth Home Tour is sponsored by the non-profit Dilworth Community Association (DCA) with proceeds from prior tours benefiting the fall Dilworth Jubilee, Conquer the Cankerworm tree banding, and groups such as Historic Charlotte. 20% of Home Tour proceeds support the DCA's giving arm called Dilworth Cares. Dilworth Cares designates a local charity each year to receive funds from several neighborhood functions throughout the year. The 2017 Dilworth Cares recipient will be the Dilworth Soup Kitchen.
WHEN: Friday, September 15th | 6pm-9pm | Saturday, September 16th |10am-4pm
ADMISSION: Tickets are $25 each if purchased before this Thursday, September 14th | $30 each the days of the tour. Click here for more information on ordering tickets for the 2016 Dilworth Home Tour.
2017 HOMES ON TOUR:
410 E. Park Avenue

830 E. Park Avenue

317 E. Kingston Avenue

1300 Myrtle Avenue

1239 Belgrave Place

1214 Belgrave Place

804 E. Worthington Avenue
The homes may be viewed in any order that you desire. Bonterra Restaurant in Dilworth will provide half-priced glasses of wine on tour dates to tour ticket holders.
Click On The Map Below For Directions To The Homes On Tour
THINKING ABOUT BUYING A HOME IN CHARLOTTE'S HISTORIC DILWORTH NEIGHBORHOOD?

SEARCH ALL DILWORTH HOMES FOR SALE & ALSO IN NEIGHBORING CHANTILLY AND ELIZABETH HISTORIC NEIGHBORHOODS
WONDERING WHAT YOUR DILWORTH/CHANTILLY/ELIZABETH HOME IS WORTH IN TODAY'S MARKET?
This information about Historic Dilworth's 45th Annual Home Tour is provided by Nina Hollander/Carolinas Realty Partners with RE/MAX Executive, your Charlotte metro area real estate consultants.
If you are considering purchasing or selling a home anywhere in the Charlotte metro area, I would love an opportunity to earn your business, exceed your expectations, and to prove to you
"The Right Broker Makes All The Difference."
Originally published at: http://activerain.com/blogsview/5110197/charlotte-s-45th-annual-dilworth-home-tour-2017--september-15-16