Have you wondered if it's time to buy your Charlotte metro area home and to stop renting and paying your landlord's mortgage instead of your own? And have you given any thought to how much less expensive it could be to buy versus renting when you consider how much of your income goes to rent versus how much to paying a mortgage?
Take a look at the graph below, which shows that, on average, renting "eats up" twice as much of your income as owning does.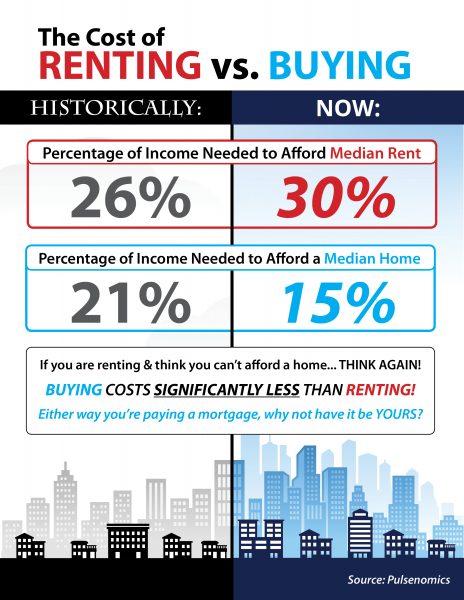 Also noteworthy is ATTOM Data Solutions' 2017 Rental Affordability Report, which showed that "making monthly house payments on a median-priced home — including mortgage, property taxes and insurance — is more affordable than the fair market rent on a three-bedroom property in 354 of the 540 counties analyzed in the report (66 percent)."
Also according to this report: "Rents have been surging faster than home prices in about 37% of the markets measured."
And we haven't even gotten into a discussion about other benefits of owning a home -- such as building net worth for your family or that when you have a mortgage you lock in your monthly payment for housing for decades.
What's the rental outlook in Charlotte, North Carolina region right now? As you can see from the chart below, the cost of renting in January 2017, alone, increased 3.5% versus the same period one year ago. And part of what is fueling the increase is a lack of rental properties. But this chart doesn't tell the whole story. Namely, in high demand areas for rental properties, prices have gone up considerably more than 3.5%:
In Mecklenburg County, rent prices were up 6.3% in January 2016 versus January 2015.

In the City of Charlotte, rent prices were up 6.5% in January 2016 versus January 2015.

In the Town of Matthews, rent prices were up 5.5% in January 2016 versus January 2015.

In Lancacaster County, SC, just behind Charlotte's high-demand Ballantyne area, rent prices went up a whopping 14.9% in January 2017 versus January 2015.
Can we assume that renters are seeing income increases at these levels to cover off the increasing cost of housing? It's doubtful.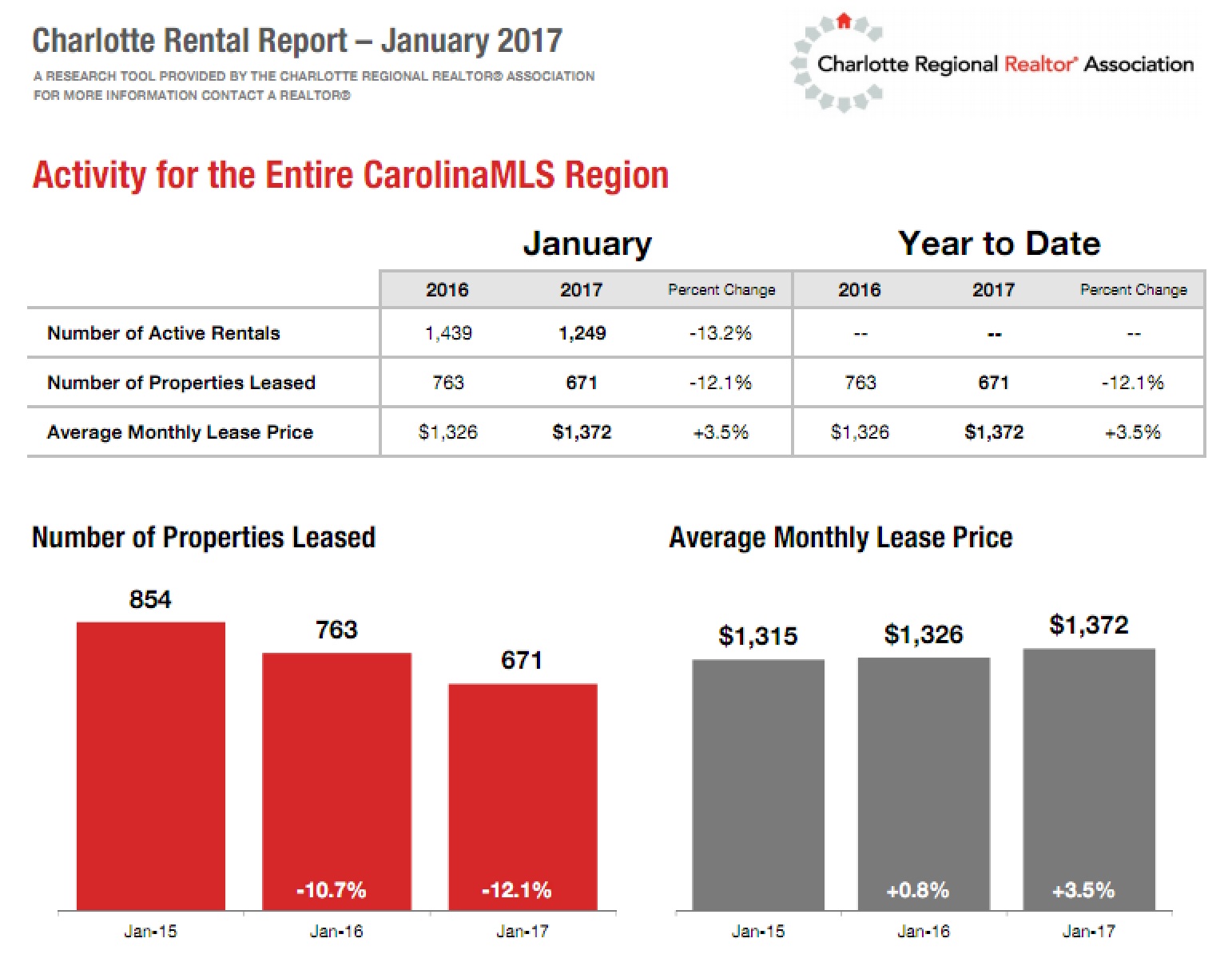 So is it time to buy your Charlotte metro area home and stop renting?
I would think the answer to this question is a definite yes!
If you're a renter who wants to stop paying your landlord's mortgage and instead lock in your housing costs, build wealth, and become a homeowner, you can:
SEARCH ALL CHARLOTTE METRO AREA HOMES HERE
This information about the advantages of buying a home versus renting is brought to you courtesy of Nina Hollander and Carolinas Realty Partners, RE/MAX Executive, your Charlotte metro area real estate consultants.
If you are considering selling or purchasing a home in the Charlotte metro area, I would love an opportunity to earn your business, exceed your expectations, and to prove to you that:
"The Right Broker Makes All The Difference."