The Retreat At Rayfield Home Sales: Q3-2023
The Retreat At Rayfield Home Sales In Indian Land, SC
Real Estate Report & Neighborhood Spotlight: Quarter 3 – 2023
The Retreat at Rayfield home sales "stabilized" somewhat in Quarter 3-2023. Average home price increased 2%, while median home sale price was flat compared with the same quarter one year ago. Quarter-over-quarter, both median and average home sale prices pulled back a bit. The list to sale price ratio also pulled back slightly by 0.67% from Quarter 2-2023, although the ratio was flat when compared with Quarter 3-2022. The five homes sold in the Third Quarter were down from one year ago, but were at their highest level for one quarter in 2023. Days on market increased to 25 days compared with one year ago and one quarter ago. 
THE RETREAT AT RAYFIELD HOME SALES SNAPSHOT: QUARTER 3 – 2023
THE RETREAT AT RAYFIELD HOME SALES SNAPSHOT: QUARTER 2 – 2023
THE RETREAT AT RAYFIELD HOME SALES SNAPSHOT: QUARTER 1 – 2023
MEDIAN HOME SALE PRICE TRENDS IN THE RETREAT AT RAYFIELD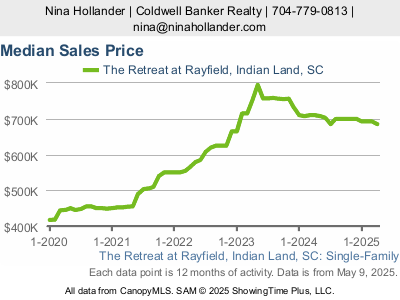 To track sales in The Retreat At Rayield "real time," click here for our Neighborhood Analyzer Report and sign up to automatically receive reports on Walnut Creek home sales.
Why Live In The Retreat At Rayfield In Indian Land, SC?
The Retreat at Rayfield provides a country club lifestyle without the country club lifestyle cost just six miles from Charlotte's upscale Ballantyne area. The Retreat at Rayfield is conveniently located near major local employers such as Red Ventures, Movement Mortgage and MetLife and close to the Ballantyne Corporate Park and Charlotte-Douglas Airport. 
Retreat at Rayfield residents enjoy the use of a clubhouse, fitness center, and pool, as well as a splash pool and playground for the "younger set."
                                                   Clubhouse and Community Pool at The Retreat At Rayfield
                                               Fitness Center and Playground at The Retreat At Rayfield
                                          Photos of Retreat At Rayfield amenities courtesy of Lennar Homes and Taylor Morrison
The Retreat at Rayfield was built by two of Greater Charlotte area's premier builders — Lennar Homes and Taylor Morrison. Altogether, there are some 379 homes in The Retreat at Rayfield.
Lennar featured craftsman style homes with a variety of 2-5 bedroom floor-plans, including ranch homes and 2-story homes, homes with the master retreat on the main floor, optional basements. Homes ranged in size from about 2,000 square feet to over 5,500 square feet plus 2-car garages. 
Taylor Morrison offered six floor-plans, also including ranch-style and 2-story homes, typically situated on at least one-third of an acre. Homes ranged in size from 3,000 square feet to 6,000 square feet with 2 or 3 car garages. 
The Retreat At Rayfield: One Of 10 Hot Indian Land Neighborhoods
Search for homes in other great Indian Land neighborhoods:

Why Do People Choose To Live In Indian Land, SC?
Indian Land, SC is located just minutes from the heart of Charlotte's upscale and popular Ballantyne area, which features two large outdoor shopping centers (Blakeney and Stonecrest) including grocery shopping, high-end boutiques, spas, casual and fine dining restaurants, movie theatres, medical facilities, etc.  Ballantyne Village is also easily accessible from Indian Land. Nearby in Indian Land are a large Walmart Super Center and a Lowes Home Improvement Store.   Recently opened in Indian Land are the Promenade at Carolina Reserve Shopping Center and the Redstone Retail Center, which also features a 14-screen movie house. Indian Land residents have access to some 23 parks within 10 miles and 22 golf courses.
SEARCH RETREAT AT RAYFIELD HOMES FOR SALE
WONDERING WHAT YOUR RETREAT AT RAYFIELD HOME IS WORTH IN TODAY'S MARKET?
SEARCH INDIAN LAND AREA HOMES HERE
SEARCH GREATER CHARLOTTE  AREA HOMES HERE
This information about The Retreat At Rayfield neighborhood in Indian Land, SC is provided by Nina Hollander  with Coldwell Banker Realty, Greater Charlotte area real estate expert and Indian Land, SC specialist. I've been opening doors for Indian Land home buyers and sellers for 24+ years.
If you're considering purchasing or selling a home in The Retreat At Rayfield or anywhere in the Indian Land/Lancaster area, I'd love an opportunity to earn your business, exceed your expectations, and to show you why experience matters and how:
"The Right Broker Makes All The Difference."